Whether you're looking to plant something new or you just want a better harvest, here are some useful tips for growing potatoes.
1. Plant certified seed potatoes
Planting seed potatoes means planting potatoes produced by the plant from the previous year. Therefore, any diseases and insects that the mother plant may have carried over in the seed potato. When you plant certified seed potatoes, you're starting with disease free potatoes.
2. Avoid Manure
With most crops, adding manure is a great idea. But, not with potatoes. If you want to grow beautiful potatoes, you have to avoid adding animal manure. This includes compost from animal manure unless you're sure it's been well composted. If you do use animal manure, expect your potatoes to have scab. Scab is a disease that causes lesions(sores) to grow on the outside of your potatoes. As much as the infected potatoes are edible, they don't look appetizing until you cut all the scabs away. This can affect your sales.
3. Sprout Your Potatoes First
Before planting your potatoes in the ground, allow a sprout to form on them. This will give you a jump start on the growing season. The sprouts will come out of the eyes of the potato. This allows them to grow about 1 cm to 2 cm before you plant.
You might also like: How to grow potatoes
4. Quarter Seed Potatoes For A Larger Harvest
You don't have to plant the whole seed potato into the ground. Instead, you can cut it into several pieces, thus, multiplying the number of seed potatoes you have on hand. Just ensure each potato section has one to two sprouts (or eyes). The best way to measure this is to not cut them down to much smaller than a chicken's egg.
5. Plant your potatoes in hills
When you plant your potatoes in hills, it helps prevent them from growing near the soil's surface that makes them turn green. This usuallyhappens when they're exposed to light. Green potatoes are poisonous. They contain high levels of a toxin, solanine, which can cause nausea, headaches and neurological problems.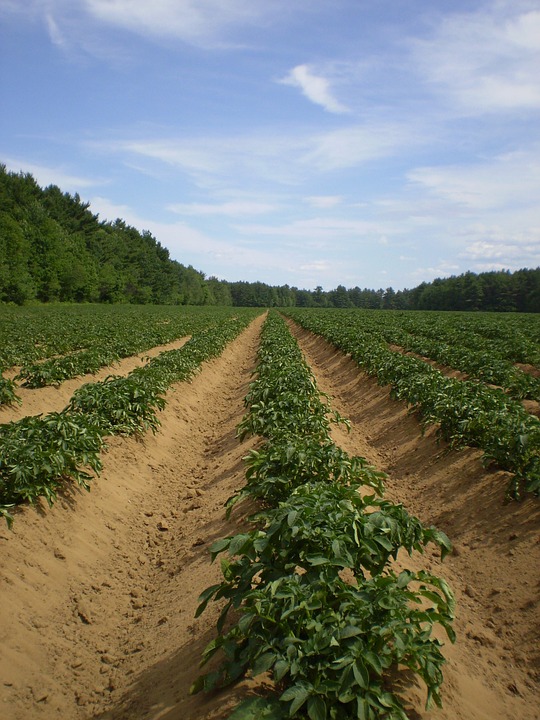 6. Water consistently
When growing your own potatoes choose an open position in full sun on fertile, well drained soil. Also, avoid soil where potatoes have grown for two years in succession because can increase the risk of disease. A slightly acidic soil is preferable but not essential as potatoes can tolerate a wide range of soils. Maintain a consistent moisture level about 3 cm to 5 cm of water per week.
7. Fertilize
A high-phosphorus fertilizer encourages root and flower production and is therefore great for root crops. If you plant organic, bone meal is the best natural fertilizer option. Add a little granular bone meal over top of the soil covering the potato seed when you plant so that when it rains, the fertilizer disperses into the soil thereby providing lasting nutrition to your crop.
8. Add Epsom Salt
Adding Epsom salt to the soil when planting can help boost levels of magnesium.  Magnesium helps build the cell walls of the potato.