The agricultural process is diverse. And, because not everyone can go out and farm, others try their hand at agro and food processing. Energy bar and fruit bar manufacturing is not only easy but also a highly profitable business that requires a small startup capital investment. You can launch a variety of natural energy, fruit or meal replacement bars with minimal effort.
Please note that this article is meant to give you a business idea and not outline a detailed process.
Market Potential
The first thing you need to do is to find out who your target market is, as well as what will make your bars unique enough for consumers to want to buy them. The best place to start is in groups that you're already a member of – co-ops, gym…
Lets start with fruit bars.
Fruit bars have a longer shelf life than fresh fruits. In addition, because fresh fruits are only available on a seasonal basis, you can never go wrong with value added fruit products. They are highly nutritious and therefore make a great lunch box snack. Furthermore,  they have better demand compared to sun dried fruits and great export potential. However, if you plan to export, you'll have to build your brand from the word go, paying attention to the packaging of the product.
The Fruit Bar Production Process
The manufacturing process is simple and standardized. All ingredients need to be by weight, not volumetric (like cups). First of all, you will need to thoroughly wash the fresh and ripe fruits. And then extract the pulp from the fruits. Prepare a sugar syrup and mix it the pulp. This blend is then dehydrated in tray dryer and drying time is around 18-20.
On cooling, cut the slabs in pre-determined sizes. But obviously, there a concern about preservation. You could use preservatives (acids and antioxidants) when starting out. However, when your market grows, you'll have to consider modified air packaging or pasteurization. You can also try vacuum sealers.
Finally, you have to procure flexible packaging materials like polyester-polyethylene laminate, polyester-aluminum foil-polyethylene laminates, corrugated board boxes etc.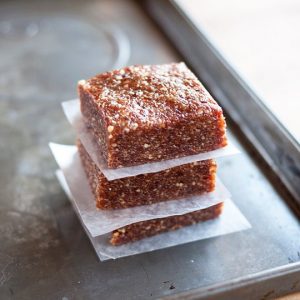 The Energy Bar Production Process
Once you've determined your target market, you need to create and perfect at least three recipes. Energy bars are usually made from nuts, seeds and dried fruits. When you're starting out, at least three flavors of bars is enough to make a complete brand. Try to consider the nutritional goals that your target market has as a starting place: weightlifters want mega-protein, runners want healthy carbs, dieters typically want low-calorie, and so forth.
Taste is just as important, so try to get your friends who are members of your target market to be guinea pigs for your recipe experiments. If you can, outsource a wholesale co-packer. Because they're already doing it on a large scale, they can often help with making professional packages.
An brief description of the energy bar manufacturing process
Mix the ingredients in a large mixer. Once mixed, put down the dough roll it to the right height (and width) and then cut to length using a cutter. Baking is optional, but if required, bake bars on a tray in an oven. You then either coat,score or sprinkle with a topping and package.
Growing your business
Now that you've created a delicious brand of energy and fruit bars, you need to make your target consumers aware of your presence. This includes running Facebook campaigns and as well as print ads in newspapers and magazines. Once you've established a strong presence, it becomes easier to contact your local supermarkets about selling your product in their stores.