Goats don't require high initial investment in comparison to other livestock in Zambia. Furthermore, Zambia exports most of it's goat products. So, if you have a herd of goats or are planning to start raising them, there a few things you need to keep in mind.
Breeding goats is certainly not rocket science. This is because animal instincts are pretty foolproof. But just like in every other aspect of their life, a little bit of management and TLC can go a long way. This will help prevent chaos, and meet your needs as a farmer.
Here's a few tips to get you up to speed
Always remember that goats are social animals. Thus, keep them in a herd. Goats depend on the herd for their own safety. So, never keep just one goat. Goats are farm animals, not pets. They are not supposed to be fully domesticated like a dog or cat, so don't treat them like pets.
Start small. Just like with any new animals you add to your farm. It's best to start slowly and expand as you go. But don't forget to begin with several goats to satisfy their herding nature.
You might also like: Get your goats to mate with these six tips
Goats have always thought like goats. So, learn how to think like a goat. This will help you know how to keep them happy. Most importantly, give them easy access to water and food. If they seem to be "stubborn," look at things from a goat's perspective. They don't know how to figure things out. For example. They will just stand there looking at water on the other side. They don't know they have to around a fence.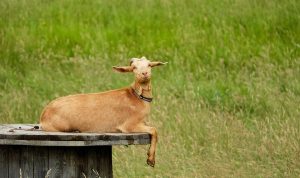 Bucks are males goats ready to reproduce. Please respect them. This is because when bucks are in rut(ready to mate), they have one thing on their minds. They can be dangerous when in rut so handle them with care and respect that potential.
The grass is always greener on the other side. That's where your goats want to be. Make your fences strong and secure to combat this natural goat tendency. Goats can get out of weak fences.
Goats don't eat everything. They're not like their cartoon version. Always ensure you have a goat nutritionist to review your herd's needs and formulate a feeding program just for you. Also, make time to learn about how to feed goats properly.