Planting potatoes, growing them into beautiful plants, and then harvesting two handfuls of small, knobby potatoes can get any farmer frustrated. However, if you plan and do things properly from the beginning, you can have a good harvest.
The humble potato is happy to call just about any place home, so long as a few basic rules are followed. You can grow them not only in the ground, but in pots, tyres, old compost bags, buckets, sacks… you name it.
When to plant
Zambia has three major potato growing seasons:
Plant summer, rainfed potatoes in November. To avoid seed damage due to high temperatures, plant after the rains have started.
Plant irrigated potato crops in February. Try to plant earlier in the month so you can harvest before winter when low temperatures damage the crop.
Growing Potatoes in Containers, Pots and Bags
The problem with growing potatoes in bags in that when the soil temperatures rise above 25°C, potato plants signal their roots to stop making tubers.  Instead, the plants may rev up other reproductive strategies, like developing more fertile flowers, or popping out little green potato-like organs on the main stem. Furthermore, the containers cause a dwarfing effect on potatoes potatoes in bags. The plants sense that they are growing very close to each other and end up producing numerous small tubers rather than a few large ones.
According to research by Master Gardeners where they compared the productivity of 'Carola' potatoes grown in beds, bins, bags and pots, these were the results:
| | |
| --- | --- |
| Growing Method | Average Yield Per Plant |
| Mulched raised bed in the ground |  1 kg |
| Wire bin | 0.32 kg |
| Plastic pot | 0.28 kg |
| Potato bag | 0.26 kg |
| Burlap bag | 0.11 kg |
Based on these results, you can decide which method is best for you. There are several types of potatoes, each with its unique characteristics. Whichever your choice, the growing method is almost the same.
Preparing for planting
Crop rotation is very important when it comes to growing potatoes so choose a place where you haven't grown potatoes or tomatoes in a few years. The success of your crop depends a lot on the tubers you select. Potatoes are planted from last years tubers and not from seeds as many may think. Therefore, ensure that the potatoes you keep from the previous year for sprouting are fungus free. It is also advisable to buy certified seed potatoes from nurseries which are not only virus and disease free but also produce a good yield.
Before you plant your potatoes, place them in a warm, sunny spot. The warmth will encourage sprouting, and exposure to sunlight will make the skins turn green and bitter making them less appetizing to critters.
Then two days before planting, cut the sprouting green potatoes into pieces smaller than a golf ball whole that have at least three "eyes" on each piece. Allow the cut pieces to dry. The drying could make them turn black. The darkened, leathery surfaces will resist rotting better than freshly cut ones. Therefore, every piece you plant should grow.
Planting Potatoes
If you want grow potatoes that are bigger than your fist,  you will need to space the rows at least 36 cm apart. You can even go even wider and plant potatoes in raised beds, with 3 plants every 61 cm diameter raised beds.  Potato raised beds are flattened mounds about that are about 15 cm high. This is the best way to grow potatoes.
You can grow your potatoes in the same bed with cabbages, maize, horseradish, parsnip and peas. Potatoes don't grow well with cucumbers, onions, pumpkins, sunflowers and tomatoes.
Caring for your plants
After planting potatoes, you can mulch them right away about 8 cm deep, or you can let the soil warm in the sun for a few weeks before you pile on the mulch. Any biodegradable mulch will do, but using a deep hay or straw mulch is an especially good way to grow potatoes. Mounding up or mulching around the plants is very important. It helps cover the roots and the young potatoes thereby, protecting them from the sun and at the same time reducing weeds. This can encourage a much heavier crop.
Most veggies just need about 5 cm deep mulch, but potatoes need more. So, every few weeks, check for gaps or thinned spots, and pile on mulch until it is 4 – 10 cm deep.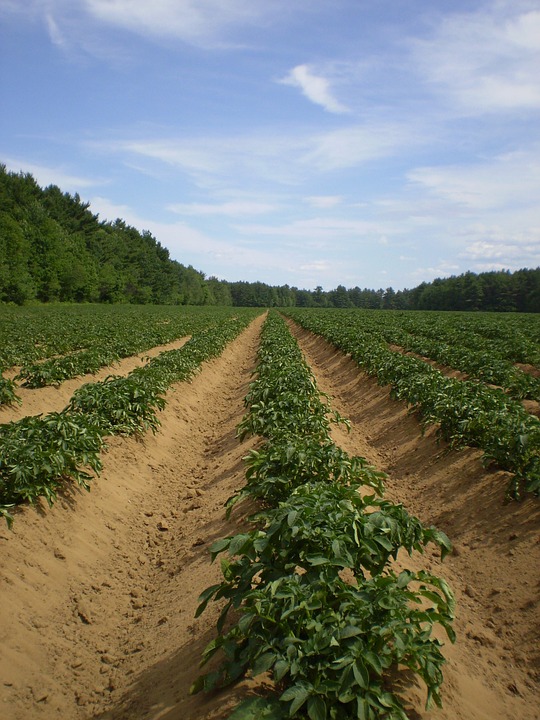 Watering Potato Plants
Keep your potato plants watered especially after they sprout so they can swell into full size potatoes but, don't overwater. Too much water can make  your potatoes brown at the center or hollow or soggy. Try to water in the morning so that the leaves can dry in the sun to avoid any disease.  When the leaves of your potato plants start to turn yellow and die back, it's time to stop watering for next two weeks. It is time to harvest your potatoes.
Fertilizing your potatoes
Potatoes generally do not need fertilizers especially if the soil is enriched with compost. You can mix some blood and bone in the soil or a general purpose granular vegetable fertilizer to improve the quality of the soil. You can also spray 5-10-15 liquid fertilizer on the leaves before the plants bloom. Try as much as possible to avoid fertilizers rich in nitrogen because nitrogen produces leafy growth and less tubers. Also, too much fertilizer can reduce the flavour of your potatoes. Mulch is better for potatoes than fertilizer.
Harvesting Potatoes
Potatoes need anything from 60 to 90 days in warm soil to grow well for a successful good yield. Generally, harvest is three or four months after planting depending on the conditions, variety and your circumstances. Once the plants on top start dying, you can harvest your potatoes.  Each potato seed you plant can produce 10 potatoes at harvest. Therefore 1 kilogram seed potatoes and could harvest about 20 kg.
Happy planting!